Skip to Main Content
It looks like you're using Internet Explorer 11 or older. This website works best with modern browsers such as the latest versions of Chrome, Firefox, Safari, and Edge. If you continue with this browser, you may see unexpected results.
GHS eBooks & eAudiobooks Using Sora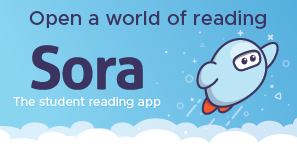 FREE ebooks and audiobooks, including lots of teen popular fiction.
Use your GHS Google login to get the OverDrive Sora app to access ebooks & eaudiobooks on your mobile device or browser.
Setting up Your Sora Account
Watch Ms. Pollock's video tutorial for getting started with Sora:
Or follow this Sora quick start guide:
Download the app for free from your app store, or go to https://soraapp.com.
Open up the app or website and click the Find my school button.
If your school doesn't show up automatically based on your location, click My school isn't listed and search for Greenfield's zip code: 01301 (you can also search for "MLS Commonwealth").

Choose Greenfield High School from the drop-down menu and click Sign In Using Greenfield High School

Enter your GHS Google login to enter into the GHS account.
Boston Public Library eCard
If you are a Massachusetts resident and don't already have a Boston Public Library card, you can register for one online.
A BPL eCard will be emailed to the account provided.
The card can be used to connect with electronic resources, including:
eBooks & Audiobooks
Streaming Media